Children
The purpose of our Children's Ministry is to Offer Christ, Grow in Faith and Serve Others.
Sundays at East Lake UMC

7:45 AM - 12:15 PM Baby Ark Nursery Ed Bldg
9:30 AM 252 Basics - Children's Sunday School ** Ed Bldg
And Jesus grew in wisdom and stature, and in favor with God and men.

Luke 2:52 (NIV)

VACATION BIBLE SCHOOL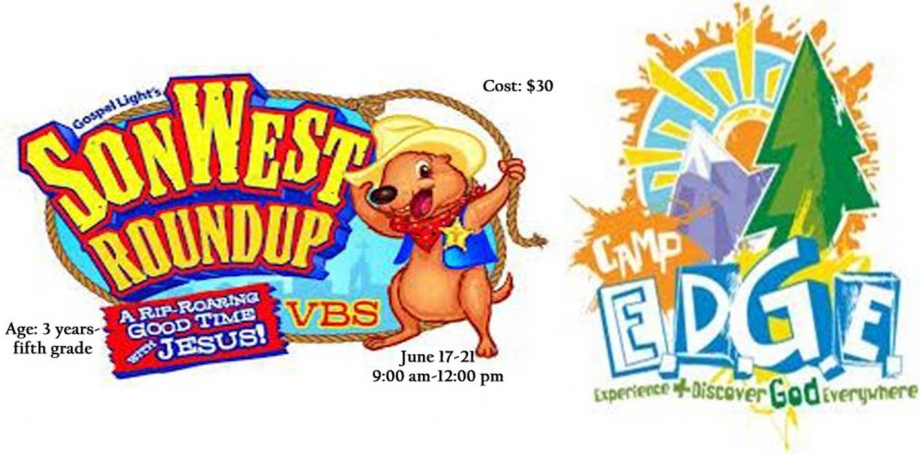 SonWest Roundup

June 17-21

9:00 am-12:00 pm

Age: 3 years - fifth grade

Cost: $30

Registration closes June 3

Camp Edge

July 8-12

6:00 pm-8:00 pm

Age: 3 years - 103

Cost $30

Registration closes June 24
Please complete the three forms below for each child and return to Erin Lowe:
Registration Form Health Form Onsite/Photo Release Form
You may bring or mail your payment to the church office or
PAY ONLINE (Scroll down to "Summer Camp").
** More info about our Sunday School material:

First Look:
God Time:
Parent Cue:
Director of Children's Ministry
727-784-9250 ext.110
45 Club (4th & 5th graders)

45 Club

Fourth and fifth graders are invited to bring their friends to safe, church sponsored events held at the church and off-site.

Children's choir

All are invited to join our children's choir for fun and learning while we rehearse for a Christmas production and Easter production. Rehearsals are Thursdays from 4-5 p.m. in the sanctuary. Please print this

form

and send it with your child.